News
Lab News
---
The Ofen Lab is moving to Dallas!
Starting January 2024, the Ofen Lab will be relocating to the Center for Vital Longevity at the School for Behavioral and Brain Sciences at the University of Texas at Dallas.
Dr. Ofen will be recruiting trainees at all levels including graduate students and postdocs to join in supporting ongoing projects including an NIH-funded R01 looking at the development of memory networks in children. Immediate plans include launching a longitudinal functional MRI study and ongoing work on deciphering memory retrieval networks in the developing brain using intracranial EEG. 
Dr. Ofen will be recruiting graduate students through the Cognitive Neuroscience track at UT Dallas School of Behavioral and Brain Sciences (https://bbs.utdallas.edu/departments/psychology/graduate-programs/cognitive-neuroscience-track/). Prospective graduate students are highly encouraged to email Dr. Ofen (noa.ofen@wayne.edu)
Stay tuned for more information. 
---
Congratulations to Dr. Qin Yin!
Qin has recently successfully defended her dissertation titled "Occipitotemporal Alpha and Theta Dynamics Supporting Memory Formation in the Developing Brain". 
Qin's work is exceptional in that she has developed a highly unique skillset that allows her to tackle fundamental questions about the neural basis of cognition while using a rare kind of data: intracranial EEG recordings from patients with epilepsy who undergo brain mapping as part of their clinical treatment. Qin's dissertation work aims to expand our understanding of key signatures of brain activity that underlie perception and memory, and the particular contribution of the visual cortex to memory across development. During her Ph.D., Qin has published papers in top-tier journals and presented at international conferences. Her excellence in research has been recognized in being part of the Institute of Gerontology training program and winning top awards from the Psychology Department and the Blue Cross Blue Shield of MI Foundation.
A big thank you goes to Qin's dissertation committee members, Jeske Damoiseaux (Psychology/IOG), Ana Daugherty (Psychology/IOG), Eishi Asano (Pediatrics, Neurology, CHM), and Lisa Johnson (Northwestern University). 
We are lucky to have Qin rejoin us as a postdoc for the coming months and can't wait to see  what the future holds for her research and contributions to our team.
Congratulations to James for completing his Honors Thesis!
In his Honors thesis, titled: "Assessing Memory-related Differences in Functional Brain Connectivity in the Hippocampus and Cortical Regions Across Development" James integrated data from multiple projects he conducted while working as an undergraduate research volunteer at the Ofen Lab. 
James was also the recipient of two UROP awards. 
See more cover about James at Today@Wayne
https://today.wayne.edu/news/2023/04/27/wsu-honors-student-james-wairagu-recounts-his-joyous-journey-from-kenya-to-campus-51242?utm_source=link&utm_medium=email-644ff3ffc94af&utm_campaign=Monday%2C+May+1%2C+2023+-+Today%40Wayne+-+Wayne+State+University&utm_content=Honors+student+recounts+joyous+journey+from+Kenya+to+campus
Congrats, James!
Outreach, outreach, outreach!
The Ofen lab has been hard at work spreading the love for brain research and cognitive neuroscience around metro Detroit. We run several demos and explanation stations in Future Docs and Brain Day events in mid-March and joined STEM Day at Wayne State in late April. Special kudos go to Da' Jonae Foster for taking the bulk of organizing and running the activities. As you can see--- fun was had by all!
---
New paper in press in Current Biology out Feb 15th, in which we investigated how the brain supports memory formation and used direct brain recordings from children and adults to glean a comprehensive account and novel mechanisms of memory development. Here is some news coverage, and a link to the paper. ENJOY!
---
Congratulations to Ofen lab's Ph.D. students Roya Homayouni and Qin Yin for winning the BCBSM student awards!
Qin's project will make a direct impact on health care by improving the outcome of epilepsy surgery, which has become an effective treatment for children with refractory focal epilepsy. For an epilepsy surgery to be successful, it is essential to not only identify the epileptogenic zone but also precisely map the cortical function. The proposed project will develop an innovative approach to map functionally eloquent memory tissue by identifying memory-related iEEG in children with epilepsy.
Welcome Da'Jonae Foster, Parisa Vahidi and Christina Lee to our research team as Ph.D. students!
Congratulations to Ofen lab's undergrad research assistant, James Wairagu, for winning the UROP award and his vice presidency in the Nu Rho Psi, the Wayne State University National Honor Society in Neuroscience!
Congratulations to Roya Homayouni for her first first-authored paper out in the Journal of Neuroscience Research, "Testretest reliability of hippocampal subfield volumes in a developmental sample: Implications for longitudinal developmental studies".
---
Ofen Lab's research is featured on Science Trends and are shared across social media and Google News! Science Trends has published an article authored by Qijing Yu and Noa Ofen, Why Are You Better Than Your Kids In Remembering The Grocery List?. This article introduces to the public in an accessible fashion the interesting findings from a paper entitled Age-associated increase in mnemonic strategy use is linked to prefrontal cortex development, recently published in the journal NeuroImage. This work was conducted by Qijing Yu, Dana M. McCall, Roya Homayouni, Lingfei Tang, Zhijian Chen, Daniel Schoff, Mayu Nishimura, Sarah Raz, and Noa Ofen.
---
Professor Ofen has been awarded a five-year, $1.9-million grant from the National Institute of Mental Health of the National Institutes of Health to study the development of memory networks in children. We will investigate brain activity that predicts memory formation in children undergoing surgery to manage epilepsy that has not been con- trolled through other treatments. (WSU Division of Research, IOG newsletter "Transitions")
The Ofen Lab extends a warm welcome to two new graduate students who are joining our team: Qin Yin and Roya Homayouni. Welcome!
---
Congratulations to the members of the Ofen Lab for their many recent achievements!
Our paper "Memory and the Developing Brain: Are Insights from Cognitive Neuroscience Applicable to Education?" by Ofen, Yu & Chen, was published in a special issue about Neuroscience and Education Current Opinion in Behavioral Sciences!
Qijing on winning the Olson Award!
Sanaya for winning 1 of the 2 undergraduate poster awards at the Michigan Chapter Society for Neuroscience (MISFN) Annual Meeting in East Lansing, MI!
Priya, Sydney and Nikhil for completing their Honors Thesis!
Sanaya and Sruthi for winning awards in the undergraduate CLAS research fair!
Mahnoor and Sanaya for winning the Undergraduate Research Opportunities Program (UROP) Award!
Sanaya for being part of the Summer Undergraduate Research Experience (SURE) program!
Ryan, Sruthi and Sanaya for presenting last week at the meeting of the MI chapter of the Society for Neuroscience.
Two new members are joining our team: Holly Kern, WSU undergraduate majoring in Psychology, and Hager Alkhafaji, WSU undergraduate majoring in Biology and one of WSU-APA Summer Scholars. They are both eager to learn more about memory and cognitive neuroscience. 
---
On June 30, we participated in an educational summer program for local adolescent girls, Gaining Options-Girls Investigate Real Life (GO-GIRL). GO-GIRL is intended to provide support, knowledge, and motivation for young girls to develop STEM (science, technology, engineering, and mathematics) related careers. As part of the GO-GIRL summer program, our lab taught a course entitled "How Your Brain Works," which explained sensory processing and allowed the girls to conduct an experiment to investigate automatic performance (what you can not control) and inhibitory control (the ability to override your natural response to achieve a goal). This course was both educational and fun! We had a wonderful time working with these girls and we look forward to future outreach activities.

---
Saturday, March 21st and Saturday, March 28th, the Ofen Lab had the opportunity to engage the community in two events aimed at generating excitement and awareness about science, research, and the brain. Brain Day, which was hosted at the Michigan Science Center in Detroit, attracted hundreds of people to take a hands-on approach to learning. These activities were hosted by groups from Wayne State University and University of Detroit Mercy.
By following this link, you can read a great article in the Detroit Free Press about the event with a quote from our lab coordinator David Brush. http://www.freep.com/story/news/local/michigan/detroit/2015/03/21/brain-day-detroit/25157061/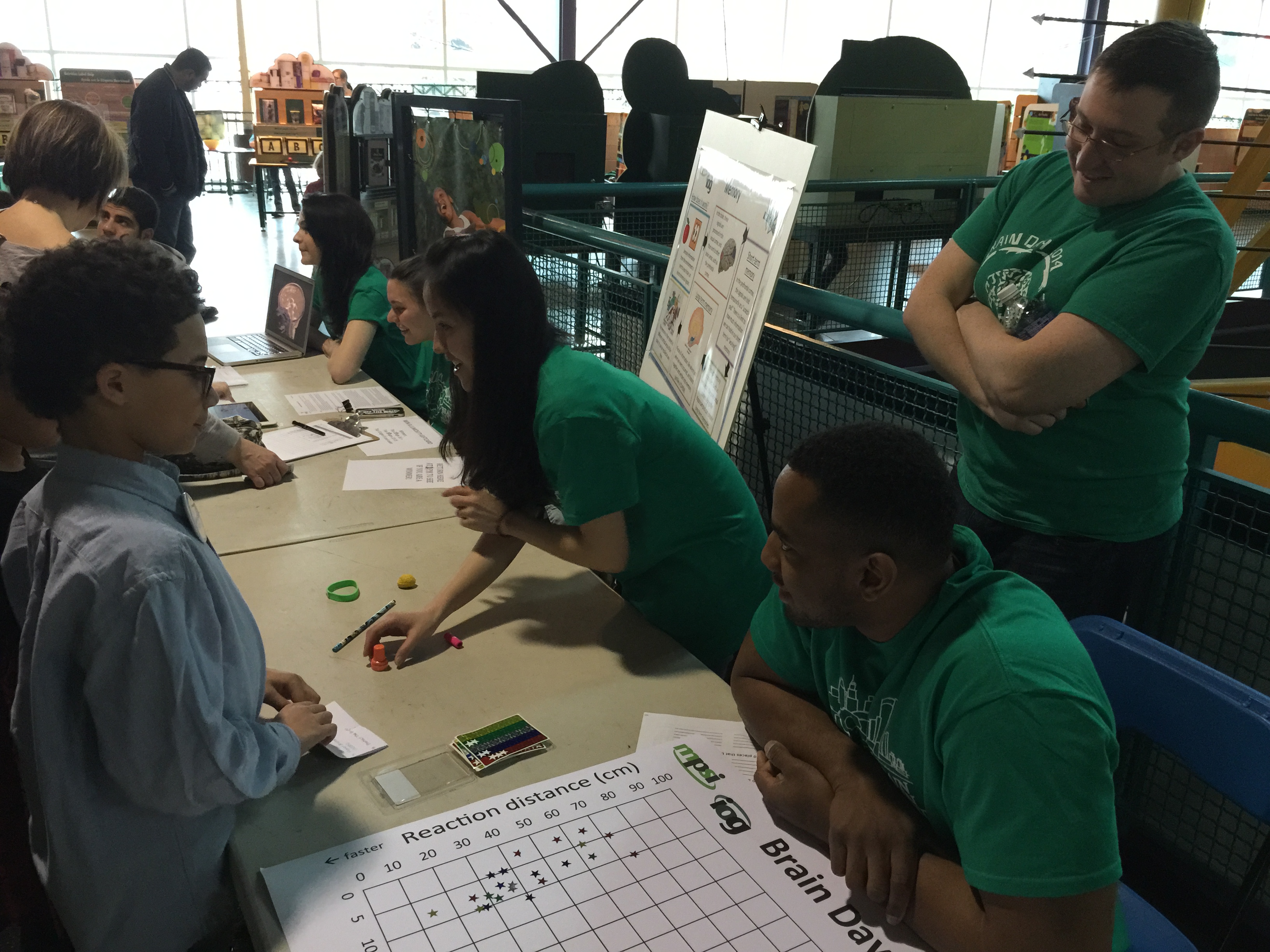 The following Saturday, Future Docs Day, was an event hosted by the Medical School at Wayne State University. Below are a number of pictures of our lab members teaching Alumni of the medical school and their children about functional magnetic resonance imaging and other aspects of our research. 
---
Two undergraduate research assistants from the Ofen Lab, Priya Sam and Sadia Ghazi, presented in the Annual Rodney Clark Undergraduate Research/Poster Day. Both students did a wonderful job presenting, and the judges awarded Priya first place. Below is a picture of the undergraduates and their project mentors.
---
Professor Progovac and team presented preliminary results of "In Search of Proto-Syntax in the Brain." This is an ongoing joint fMRI research project between Ofen Lab and the WSU linguistics program. This research is funded by the 2015 Marilyn Williamson Distinguished Faculty Fellowship and this talk was given in recognition of this award.
From left to right: Ruth Crabtree, William Angell, Ljilijana Progovac, and Noa Ofen 
---
This Summer has been an eventful one. Our postdoc Rebecca has moved on to begin an exciting position as editor of Current Trends in Cognitive Science and our lab manager Carson is leaving to begin a PhD program at UCSD Cognitive Sciences.  Dr. Ofen chaired a session while Lingfei and Ana presented posters at the Organization for Human Brain mapping conference in Hamburg, Germany and David presented a poster at the Michigan Chapter of the Society for Neuroscience. 
---
Dr. Ofen just returned from a trip to California to attend the 19th German-American Kavli Frontiers of Science Symposium on April 4-6, where she presented her work and represented the field of cognitive neuroscience to a truly interdisciplinary group of academics and scientists.  She was also able to use the time to visit and learn from colleagues at other top labs at the site of her previous post-doc, Stanford, and UC Berkeley.  
For information about Dr. Ofen's work at the Kavli Frontiers of Science Symposium, see the recent posting on the WSU School of Medicine E-News Site: http://prognosis.med.wayne.edu/article/national-academy-of-sciences-selects-dr-noa-ofen-as-kavli-frontiers-fellow.
---
On March 29th, our lab had a great time interacting with Detroit's community at Wayne State's Future Docs Day!  Attendees had the opportunity to see real MR images, play memory games, color brain-related worksheets and test their reaction time.  With hundreds of people participating in the event, it was a fantastic way to continue sparking interest in the brain among "Future Docs."
---
Three psychology undergraduate students in our lab had the opportunity to present work at the 2014 Rodney Clark Undergraduate Research/Poster Day.  Kristine and Sadia presented the poster entitled "Socioeconomic Status and Hippocampal Volume," and Priya presented "Developmental Effects in Clustering Strategies During Free Recall."  All did a wonderful job presenting their posters, and we are proud to say that Priya won the presentation award for the CNS, Cognition and Development category!
---
Most of our lab were able to come out and volunteer at the Michigan Science Center's Brain Day this March along with the rest of the MPSI/IOG Lifespan Cognitive Neuroscience Group.  It was a lot of fun for us and the kids, and we hopefully helped spark some interest in science that will stay with them throughout life.
---
The Ofen Lab will be presenting two posters at the 43rd annual meeting of the Society of Neuroscince in San Diego on November 9-13!
Wayne State University Life Span Cognitive Neuroscience team: Ofen Lab, Raz Lab, Thomason Lab, and the Damoiseaux Lab 
Ofen Lab members in front of the Knapp building
Summer get together bidding farewell to Amanda and Jonatha.  We all wish Amanda a great time at warm Florida State!
 
We also would like to congratulate Nikhil Adapa and Ishan Patel on completing their Summer Undergraduage Research Experience (SURE) programs.  Both helped out tremendously in our lab, working on the analysis of our fMRI data and presenting their results both at our lab and at the WSU SURE Research Conference.  
Dr. Ofen to chair and speak at the Annual Meeting of the Society of Biological Psychiatry in San Francisco.
Raphael of Ofen Lab featured in the Institute of Gerontology's blog
Dr. Noa Ofen presents at the Society of Biological Psychiatry 
Ofen Lab presents 3 posters at the MiSFN. Thank you Ana, Bill and Robbie!
---
The Ofen Lab has been actively participating in the community, increasing the enthusiasm young children have for science and increasing general awareness of the type of brain research that is going on!
The Ofen Lab made appearances at both Brain Day at the Michigan Science Center and Wayne State's Future Docs to work with kids around the Detroit area.
Ofen Lab featured in Wayne State University's weekly newspaper - The South End.
Dr. Ofen is teaming up with researchers from MIT.
Our new study has been finalized, and we are getting ready to start running participants!!
Here is Dr. Ofen, research assistant Amanda, and the lab manager Raphael on their way to the MRI scanner:
Here is Raphael looking at images of his brain from the MRI scanner:
---
Dr. Ofen is featured in the Fall 2011 issue of the Institute of Gerontology's Transitions magazine.
Lifespan Cognitive Neurosceince is featured in the Annual Report of the Institute of Gerontology.
The mock Scanner is ready to go, and looks great in its new home!  
Dr. Ofen presented her work as part of an Invited Symposia in the meeting of Cognitive Developmental Society, and during the Baltes Conference, an ecxiting meeting at Wayne State University that gathered some of the world's top reserachers of brain plasticity across the life span.
And ... the lab is fully furnished, including our iconic red r-shaped couch.